Roll-Off Containers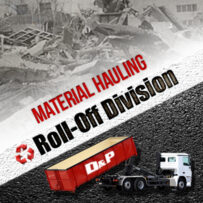 D&P Construction offers a wide variety of roll-off containers to help with your companies disposal needs.The 10, 12, and 15 yarders are perfect for heavy materials like dirt, clay, concrete, and roofing shingles. The 20 and 30 yarders are great for lighter demolition and construction materials. Such as wood, drywall, plastic, etc. The 40 yarder is reserved for the lightest materials like wood or cardboard.
Roll-Off Containers by Yard
Frequently Asked Questions
The Roll-off trucks work Monday through Friday
Call 24 hours ahead of time.
Each truck has a 9 ton (18,000 pounds) weight limit. This is state law and police pull overloaded trucks over.
All dirt must now be inspected before it is disposed.
Click chat for any other questions.