Roll-Off Disposal Services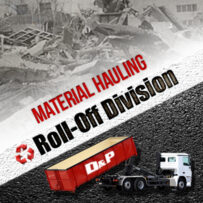 D and P Construction Disposal:
A Disposal Partnership with the Construction Industry
D and P Construction Waste Management provides full service waste removal. For more information on our recycling services visit our sister company www.jksventures.com. At D and P Construction, we specialize in providing the highest quality commercial and roll-off service throughout the entire Chicagoland area. We have the capability to handle solid waste, recycling, construction recycling and special wastes. We provide same day service and have the ability to provide 24-hour service when necessary.
At D and P Construction, we specialize in construction waste management and recyclingon LEED™ green building projects. IRS has the experience and equipment to handle any size project from new construction, demolition, rehabbing, build-outs, and trades work. Our commitment to quality customer service, industry expertise, and competitive pricing means that your company will save time and labor on every project.
When you call IRS, you'll speak directly with our dispatchers—which means fewer miscommunications, timely service, and a no-hassle dumpster rental process. Through our integrative recycling process, Independent Recycling recovers and recycles 75-95% of your construction and demolition (C&D) material from the waste stream. We also take care of your City of Chicago and LEED™ recycling documentation so that you can focus on the more important details of your project.